Good afternoon everyone! I am dying to tell you all my exciting news!!!! I have 3 things to tell you...........
First thing is.......................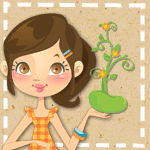 I am now a Designer for ERIKA @ CRAFTY SPROUTS and she is coming out with her very own stamp line!!!! Woo-hoo congrats Erika and congrats to me and the rest of my DT sister's, Abby, Raven, Roberta, Zeni, and Jess. I am so excited for this brand new journey and I wish Erika the best of luck!! You go girl!!!
We will all be doing sneak peaks of the stamps starting tomorrow on Erika's blog, and also the stamps will be available for pre-sale starting this Friday 8/12 isn't that exciting??
Second thing is...............................
I am hosting another fabulous hop this week on Wed/Thurs 8/10-8/11, yes I know it's kind of a random day for a hop, but I figured that a lot of us get so busy on the weekend's (including me) and sometimes you don't have enough time to do a hop!
Third thing is...........(saving the best for last!)................
I'm PREGNANT!!!!!!

Yep, I just found out that I am pregnant with my 2nd child yay!!! I am so excited and I'm not as scared as I was the first time I was pregnant LOL! So I am just hoping and praying that I have an easy and healthy pregnancy and baby, and keeping my fingers crossed for a girl haha! but would be happy to have another boy!
Ok so that's enough news for today, please be sure to congradulate my sweet friend ERIKA on her new stamp line!!! Congrats Erika!!