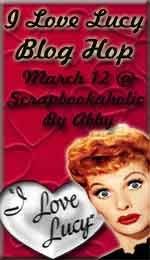 Hi everyone welcome to the I Love Lucy Blog Hop hosted by my sweet dear friend
Abby
from
http://www.scrapbookaholicbyabby.com/
if you just arrived here from her blog then you are in the right spot.
Abby over at Scrapbookaholic By Abby is hosting this hop because she is a crazy fanatic of "I Love Lucy" she loves this show so much that she gathered a group of ladies that also have a little bit of an addiction to this wonderful red-hair lady!
For my episode I get to create something inspired by the "BE A PAL" episode! I love that one especially when she comes out dancing and lip syncing and the radio is messed up its too funny! You can skip it to 4:04 to see her dancing.
For my Lucy Card I found this free I Love Lucy Clip Art and printed it on a 3.5x5 size, I love how clear the color looks. I punched a border from my favorite Martha Stewart border punch. I stamped the sentiment 'Lots of Laughs' with a Hampton Art stamp. The final size of my card was 5.5x5.5
Blog Candy! In honor of reaching over 1,000 followers I am giving away my new favorite cartridge GROOVY TIMES. I am going to chose a Random Winner on April 1st to one lucky follower, just leave me a comment here.
Abby
http://www.scrapbookaholicbyabby.com/
Sandra
http://www.365daysofcricut.blogspot.com/
ME
Kich
http://www.scrappykich.blogspot.com/
-----
NEXT STOP
Elsa
http://www.cricutlvr.blogspot.com/
Jennifer
http://www.creativearmywife.blogspot.com/
Angelica
http://www.handmadebyangelica.com/
Gaby
http://www.gabycreates.com/
Keely
http://www.keelyy.blogspot.com/
Debbie
http://www.craftydeb-ddscrafts.blogspot.com/
Pam
http://www.pammejo-scrapbookflair.blogspot.com/
Linda
http://www.krazyquilling.com/
Jess
http://www.myscrapdiary-jess.blogspot.com/
Christine
http://www.scrapbookingtechnique.blogspot.com/
Here are the giveaways on Abby's blog, please make sure to leave a comment on all blogs in order to win:
SEI Paper 6x6 Collection
SEI Ribbon Assortment
Sticker Assortment
Flower assortment Pack
Elmer's Glue
I LOVE LUCY DOLL!!!
Italian Charm bracelet with I Love Lucy charms!!!