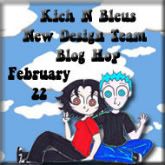 Hi everyone welcome to the Kich N Bleus Design Team Blog Hop!!! If you are here from
Patty http://cardsbypattytanuz.blogspot.com/
then you are in the right spot. If you would like to start from the beginning please click
HERE
. I am so excited to announce that I am on brand new design team called Kich N Bleus. If you are unfamilliar with Kich N Bleus Designs, they are Digi Stamps and the Artist is Kich. I think she is so talented and I support her new stamp line! The DT will be using stamps from her newest line called Kich Celebrate's and every Design Team member will be giving away a set so that's 9 chances to win!
For my card I colored her with Prismacolor pencils, embossed the white paper with my Cuttlebug and did some inking with Distress ink. I stamped the sentiment and added ribbon, black embroidery floss and some buttons.
Now for some blog candy!! One lucky follower will recieve the entire Kich Celebrate's collection just leave me a comment here.
http://www.kichnbleusdesigns.com/
Starting Point
http://www.scrapbookaholicbyabby.com/
Abby
http://ascrapabove.blogspot.com/
Bonnie
http://bitbythecricutbug.blogspot.com/
Lisa
http://hailemnat.blogspot.com/
Liset
http://cardsbypattytanuz.blogspot.com/
Patty
http://365daysofcricut.blogspot.com/
Sandra

YOU ARE HERE
http://sonyaspapertrail.blogspot.com/
Sonya
NEXT STOP
http://terecontodomicorazon.blogspot.com/
Tere