***If you are continuing on the Love Is In The Air Blog Hop please scroll down to next post***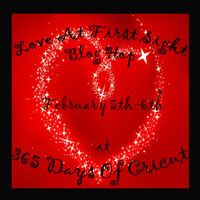 Hello everyone welcome to The Love At First Sight Blog Hop hosted by me! This is my first time hosting a hop all by myself I feel all grown up now LOL! I had the idea for the hop to celebrate a few things... first of all I would like to celebrate the anniversary of the date my hubby Ricky and I first met on February 2, 2003 it really was Love At First Sight! Really!! I knew I wanted to be with him forever from the moment I saw him, and he felt the same way about me too! So 1 year later we got married, we got married on Febraury 28th, 2004 in Viva Las Vegas woo-hoo!! Yep a lot of people thought we weren't going to last since we were young and since we got married in Vegas, boy did we prove them wrong! This hop is very special to me because my hubby just got back from Iraq last week and he was gone for a total of 5 long months so I said we are going to celebrate every single holiday since he missed out on the big holidays over the last months. We are also celebrating Valentine's Day. So I asked all of these wonderful talented ladies to join me in my triple celebration in this Lovely Love Month Of Febraury by making a Love-Themed gift for someone we love. Some of us will be sharing pictures of us with the person we are creating the gifts for. Here is one of Ricky and I at the Marine Corps. Ball in '05. I love this picture it came out better then the photographers picture!
Now for some awesome celebration BLOG CANDY!! I am giving away 8 PRIZES so that means you have 8 chances to WIN!! All you have to do is be a follower if you haven't already and tell me what your plans are for Valentine's Day!
Thank you so much to my wonderful Sponsors for supporting my love for my hubby oh and for my blog hop!! You all made this time of year extra special for me! =)
1. SANDRA
http://365daysofcricut.blogspot.com/
That's ME!
2. ABBY
http://www.scrapbookaholicbyabby.com/
NEXT STOP IS ABBY
3. RAVEN
http://love4stamps.blogspot.com/
4. THERESA
http://www.thescrapbookingqueen.com/
5. JANIS
http://pausedreamenjoy.blogspot.com/
6.AMANDA
http://www.myscrappinobsession.com/
7.JOANNA
http://scrap-making.blogspot.com/
8.RUTHIE
http://septemberninth.blogspot.com/
9.ELSA
http://cricutlvr.blogspot.com/
10.ANGELICA
http://handmadebyangelica.com/
11.ALEX
http://www.youhadmeatcraft.com/
12.STEPHANIE
http://www.alwayscrafting.com/
13.GISELLE
http://crossmyheartpapercrafts.blogspot.com/
14.NADIA
http://nadiasbeautifulmess.blogspot.com/
15.KRISTIN
http://lilsweetpeasplace.blogspot.com/
16.KRISTAL
http://kandrewdesigns.blogspot.com/
17.LIZ
http://www.lizspaperloft.com/
18.JENNY
http://crazyaboutcricut.blogspot.com/
19.ERIKA
http://cricutlove1.blogspot.com/
20. DENISE
http://deesdesignsfrommyheart.blogspot.com/
Thank you so much for taking the time to hop with us today. I will Randomly select the 8 Winners on Tuesday Feb.8th