Hi everyone! Today is a start of a new Era LOL! Well sort of.... at
Paper Playtime
we the Queens will have Digi Monday on the last Monday of every month and the theme is always "Anything Goes". You do not have to use a Digi to participate in the challenge, but keep in mind we will have 5 Digi prizes, this is perfect especially if you have never experimented with them before. Under each card you will see my description.
I made this card for my hubby this is supposed to be him and our 3 year old son. My son loves this card...he already said "Aidan" and pointed at the baby, and "Papi" (AKA Daddy) to the dad it was so cute!! I colored this digi with Bic markers, cut the Marquee shape from Accent Essentials, embossed with 2 CB folders and added ribbon, and buttons. I used pop dots underneath the Digi. The Digi is
Prairie Fairy
I love this card especially since it was a TOTAL cheater card!! Shhhh don't tell anyone.... can you tell where I cheated lol!?! I colored Little Red Riding Hood with Bic Markers, stamped a flower on her napkin and added stickles, I put stickles on her bow, lips, and socks. I cheated because that paper had so much going on it had butterflies and flowers and I figured it didn't need anything else. After I colored her it took me maybe 2-3 MINUTES to put this card together NO JOKE!! The sentiment is from Pink By Design and I also added pearls. You can get Little Red Riding Hood at
Digital Delights By Louby Loo
I had fun with this little blue bird he looks SO ready for Spring, well I know I am! I colored him with Bics, used some older DCVW Springtime paper and the green paper is from my scrap pile and I used my border punch, added pink velvet ribbon, a button and the sentiment and Bird are both from
Doodle Pantry
Here's a very Naughty card I made for my hubby lol! I wanted this card to look masculine, the paper is from American Craft's and I used my MS punch for the border and added black ribbon along with some inking. I colored this "Naughty" girl with Bics also. The image and sentiment are both from
Digi's With Attitude
Please make sure you head over to
Paper Playtime
to leave the Digi Monday Team some blog love since this is our first challenge together as the Digi Team!Also, if you would like to try some Digi's for FREE please click on each of the company's name and you will see a FREEBIE section to try some Digi's out for Free!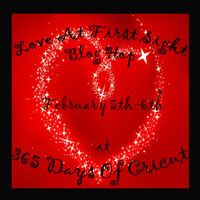 Also I have a big announcement!! I will be hosting my first ever Blog Hop this Saturday Feb. 5-6th to celebrate Love and to celebrate my Anniversary of when I met my hubby 8 years ago, and to celebrate my wedding Aniversary which is also in Feb. and of course Valentines Day! I will have many prizes to Give Away!
Here is the list of everyone that will be in the hop!
ME! 1. SANDRA http://365daysofcricut.blogspot.com/
2. ABBY http://www.scrapbookaholicbyabby.com/
3. RAVEN http://love4stamps.blogspot.com/
4. THERESA http://www.thescrapbookingqueen.com/
5. JANIS http://pausedreamenjoy.blogspot.com/
6.AMANDA http://www.myscrappinobsession.com/
7.JOANNA http://scrap-making.blogspot.com/
8.RUTHIE http://septemberninth.blogspot.com/
9.ELSA http://cricutlvr.blogspot.com/
10.ANGELICA http://handmadebyangelica.com/
11.ALEX http://www.youhadmeatcraft.com/
12.STEPHANIE http://www.alwayscrafting.com/
13.GISELLE
http://crossmyheartpapercrafts.blogspot.com/
14.NADIA http://nadiasbeautifulmess.blogspot.com/
15.KRISTIN http://lilsweetpeasplace.blogspot.com/
16.KRISTAL http://kandrewdesigns.blogspot.com/
17.LIZ http://www.lizspaperloft.com/
18.JENNY http://crazyaboutcricut.blogspot.com/
19.JESS http://www.kinderstampo.com/
20.CHRISTI http://scrappin5littlecupcakes.blogspot.com/
21. DENISE http://deesdesignsfrommyheart.blogspot.com/
22. DIANNE http://diannesscrappycreations.blogspot.com/
Love At First Sight Blog Hop 2/5-2/6